Recent Podcasts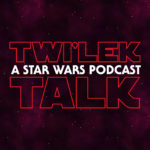 Rob and Ben talk about season 7 of The Clone Wars. From beginning to end, we have opinions here in episode 12 of Twi'lek Talk. Also, May The Fourth Be With You! What did you do on Star Wars day?
In this episode, the crew talks the Obi-Wan series, the Mandalorian, and the Rise Of Skywalker.
Rob Solo and Old Ben discuss theories in relation to the upcoming Star Wars Episode 9 film. Fans have quite an imagination with wild speculations and they get into all of that here, in Twi'lek Talk's Episode 10.